OPC Salon Goes Green
Did you know that human hair can be used to help clean up oil spills?
And did you know that every day hair salons across North America discard:
63,180 pounds of hair clippings

42,122 pounds of hair color

109,512 pounds of foil and color tubes, and

206,392 pounds of wastepaper, salon bottles, and other paper and plastic items
That's 421,206 pounds of waste that could have gone to help clean up oil spills, generate new sources of energy, or produce new metals.
That's why we're going green.
As a new Green Circle Certified Salon, we're proud to announce that OPC is now part of a comprehensive recycling and sustainability program that significantly reduces our industry's environmental impact on the planet.
As a member of Green Circle salons we now divert 85–95% of our waste from landfills and waterways. This certification also looks at our energy, lighting, water, cleaning products, and every part of your salon experience. It guides our operations to minimize impact on our planet and its resources.
What this means for our clients
You'll now see a $1.50 eco fee on your bill, which is the Green Circle Environmental Stewardship Fee (ESF). This fee funds all of the green changes that reduce our salon's impact, including the recycling and repurposing of our waste. Without the ESF, this impactful program could not exist.
With this small contribution, you contribute to healthier, sustainable communities.
What happens to all the waste
We sort the materials here in the salon. Then, Green Circle collects the materials from us, and brings them to their warehouse, where they are weighed, documented, and sent for recycling, repurposing or redirecting. Paper, plastics, metals and foils, hair, excess chemicals, salon waste and glass are just some of the materials we can now recycle.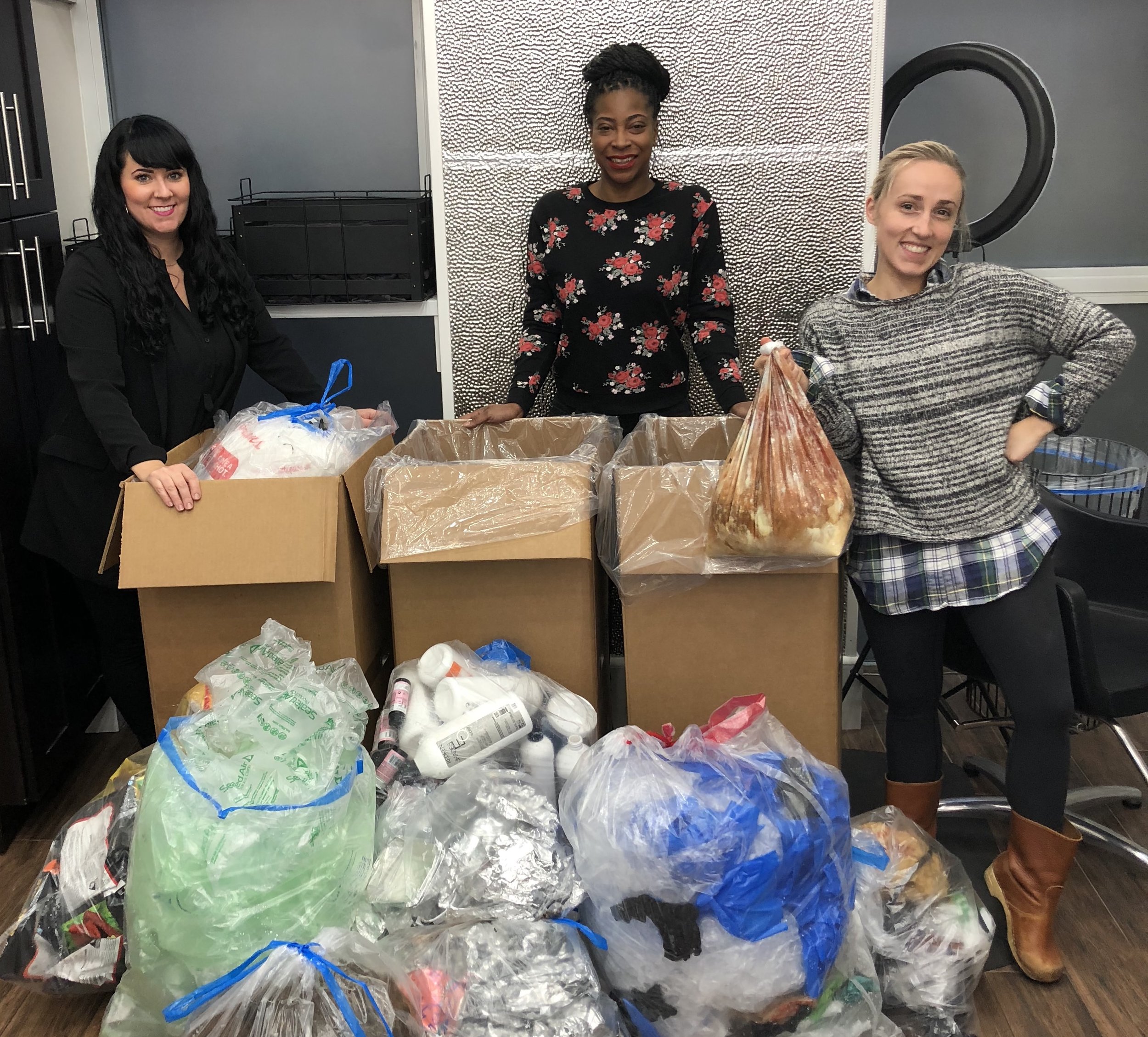 Doing our part to divert our salon waste from landfills and waterways. We recycle hair clippings, used foils, excess hair color, color tubes and much more!
From left: Cori, Anaise, and Sarah.
Now, every time you visit our salon, you can feel good knowing that you're taking meaningful steps to protecting and preserving our environment.